Interior Light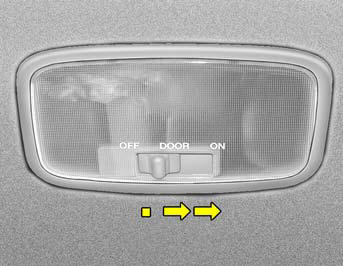 The interior courtesy light switch has three positions. The three positions are:
o "DOOR"
In the "DOOR" position, the interior courtesy light comes on when any door is opened regardless of the ignition key position and the light goes out after approximately 20 minutes even though the door is open. The light goes out gradually after 30 seconds if the door is closed. However if the ignition switch is ON or all doors are locked, interior light will turn off even within 30 seconds.
o "ON" In the "ON" position, the light stays on at all times.
CAUTION:
Do not leave the switch in this position for an extended period of time when the vehicle is not running.
o "OFF"
In the "OFF" position, the light stays off at all times even though a door is open.
See also:
SUN VISOR
Your Hyundai is equipped with sun visors to give the driver and front passenger either frontal or sideward shade. To reduce glare or to shut out direct rays of the sun, turn the sun visor down. ...
Temperature Control
This control is used to adjust the degree of heating or cooling desired. ...
Multi box
To open the cover, press the button and the multibox will automatically open. ...