Interior Light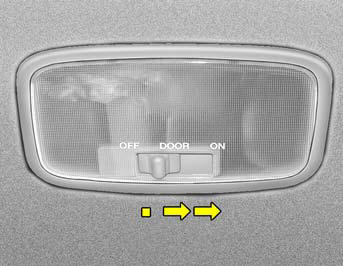 The interior courtesy light switch has three positions. The three positions are:
o "DOOR"
In the "DOOR" position, the interior courtesy light comes on when any door is opened regardless of the ignition key position and the light goes out after approximately 20 minutes even though the door is open. The light goes out gradually after 30 seconds if the door is closed. However if the ignition switch is ON or all doors are locked, interior light will turn off even within 30 seconds.
o "ON" In the "ON" position, the light stays on at all times.
CAUTION:
Do not leave the switch in this position for an extended period of time when the vehicle is not running.
o "OFF"
In the "OFF" position, the light stays off at all times even though a door is open.
See also:
Review: 2012 Hyundai Accent GLS Sedan
The Hyundai Accent has never been a Уgotta have itФ sort of car. Instead, itТs been a УwhatТs the cheapest thing you got?Ф sort of car. The 2011 started at just $9,985 (plus shipping and handling) ...
Manual transaxle fluid (if equipped)
Inspect the manual transaxle fluid according to the maintenance schedule. ...
Handling the Spare Tire
Remove the installation bolt to remove the spare tire. To replace the spare tire in its storage compartment, tighten the bolt firmly with your fingers until there is no more play in the spare ti ...