Interior Light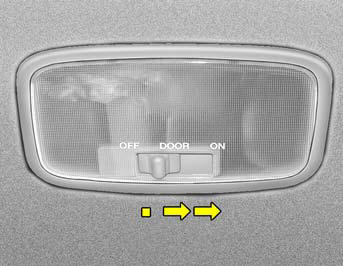 The interior courtesy light switch has three positions. The three positions are:
o "DOOR"
In the "DOOR" position, the interior courtesy light comes on when any door is opened regardless of the ignition key position and the light goes out after approximately 20 minutes even though the door is open. The light goes out gradually after 30 seconds if the door is closed. However if the ignition switch is ON or all doors are locked, interior light will turn off even within 30 seconds.
o "ON" In the "ON" position, the light stays on at all times.
CAUTION:
Do not leave the switch in this position for an extended period of time when the vehicle is not running.
o "OFF"
In the "OFF" position, the light stays off at all times even though a door is open.
See also:
Air cnditioning care
Keeping the Condenser Clean The air conditioning condenser (and engine radiator) should be checked periodically for accumulation of dirt, dead insects, leaves, etc. These can interfere with maximu ...
Checking tire inflation pressure
Check your tires once a month or more. Also, check the tire pressure of the spare tire. How to check Use a good quality gage to check tire pressure.You can not tell if your tires are properly inf ...
If the engine stalls at a crossroad or crossing
If the engine stalls at a crossroad or crossing, set the shift lever in the N (Neutral) position and then push the vehicle to a safe place. ...