Interior Light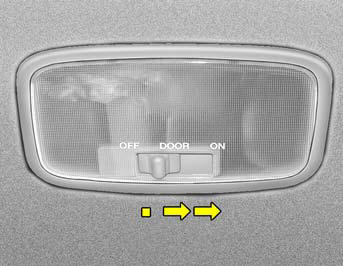 The interior courtesy light switch has three positions. The three positions are:
o "DOOR"
In the "DOOR" position, the interior courtesy light comes on when any door is opened regardless of the ignition key position and the light goes out after approximately 20 minutes even though the door is open. The light goes out gradually after 30 seconds if the door is closed. However if the ignition switch is ON or all doors are locked, interior light will turn off even within 30 seconds.
o "ON" In the "ON" position, the light stays on at all times.
CAUTION:
Do not leave the switch in this position for an extended period of time when the vehicle is not running.
o "OFF"
In the "OFF" position, the light stays off at all times even though a door is open.
See also:
Checking the engine oil level
1. Be sure the vehicle is on level ground. 2. Start the engine and allow it to reach normal operating temperature. 3. Turn the engine off and wait for a few minutes (about 5 minutes) for the oil ...
Purge Control Solenoid Valve (PCSV)
The purge control solenoid valve is controlled by the Engine Control Module (ECM); when the engine coolant temperature is low during idling, the PCSV closes so that evaporated fuel is not taken in ...
If the Engine Overheats
If your temperature gauge indicates overheating, you experience a loss of power, or hear loud pinging or knocking, the engine is probably too hot. If this happens, you should: 1. Pull off the roa ...