POWER OUTLET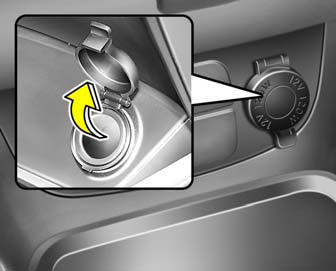 These supply 12V electric power to operate electric accessories or equipment.
CAUTION:
o Only use the power outlet when the engine is running. Unplug the plug from the power outlet when the engine is off if the key will be left in the "ACC" or "ON" (not recommended) positions, to prevent discharging the battery. Using when the engine stops or leaving the electric appliance plugged in for many hours may cause the battery to discharge.
o Do not use the power outlet to connect electric accessories or equipment other than those designed to operate on 12 volts.
o Some electronic devices can cause electronic interference when plugged into the power outlet. These devices may cause excessive audio noise and malfunctions in other electronic systems or devices used in your vehicle.