POWER OUTLET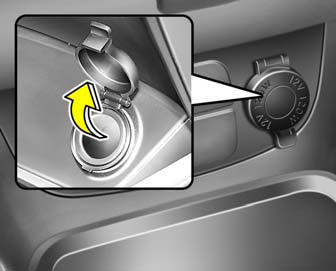 These supply 12V electric power to operate electric accessories or equipment.
CAUTION:
o Only use the power outlet when the engine is running. Unplug the plug from the power outlet when the engine is off if the key will be left in the "ACC" or "ON" (not recommended) positions, to prevent discharging the battery. Using when the engine stops or leaving the electric appliance plugged in for many hours may cause the battery to discharge.
o Do not use the power outlet to connect electric accessories or equipment other than those designed to operate on 12 volts.
o Some electronic devices can cause electronic interference when plugged into the power outlet. These devices may cause excessive audio noise and malfunctions in other electronic systems or devices used in your vehicle.
See also:
Use of E85 fuel
E85 fuel is an alternative fuel composed of 85 percent ethanol and 15 percent gasoline, and is manufactured for use in Flexible Fuel Vehicles. E85 is not compatible with your vehicle. Use of E85 m ...
Map lamp
Push the lens to turn the map lamp on or off. This light produces a spot beam for convenient use as a map lamp at night or as a personal lamp for the driver and the front passenger. • DOOR : In ...
Rocking the vehicle
If it is necessary to rock the vehicle to free it from snow, sand, or mud, first turn the steering wheel right and left to clear the area around your front wheels. Then, shift back and forth betwe ...