POWER OUTLET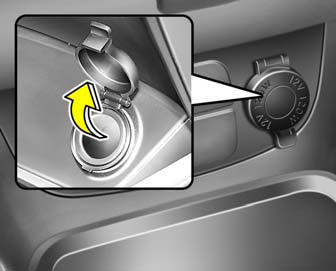 These supply 12V electric power to operate electric accessories or equipment.
CAUTION:
o Only use the power outlet when the engine is running. Unplug the plug from the power outlet when the engine is off if the key will be left in the "ACC" or "ON" (not recommended) positions, to prevent discharging the battery. Using when the engine stops or leaving the electric appliance plugged in for many hours may cause the battery to discharge.
o Do not use the power outlet to connect electric accessories or equipment other than those designed to operate on 12 volts.
o Some electronic devices can cause electronic interference when plugged into the power outlet. These devices may cause excessive audio noise and malfunctions in other electronic systems or devices used in your vehicle.
See also:
Binding arbitration of warranty claims (U.S.A only)
Any claim or dispute you may have related to your vehicle's warranty or the duties contemplated under the warranty, including claims related to the refund or partial refund of your vehicle's purch ...
Shop manual
A Hyundai Shop Manual is available from your authorized Hyundai dealer. It's written for professional technicians, but is simple enough for most mechanically-inclined owners to understand. ...
2012 Hyundai Elantra review By Steven Cole Smith
Just as Hyundai did with the new Sonata -- which matches and in many ways surpasses its top competition in the midsized category, the Honda Accord and Toyota Corolla -- the Korean company is hopin ...