DIGITAL CLOCK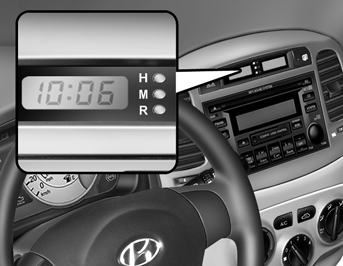 There are three control buttons for the digital clock. Their functions are: HOUR - Push "H" to advance the hour indicated.
MIN - Push "M" to advance the minute indicated.
RESET - Push "R" to reset minutes to ":00" to facilitate resetting the clock to the correct time. When this is done: Pressing "R" between 10 : 30 and 11 : 29 changes the readout to 11 : 00. Pressing "R" between 11 : 30 and 12 : 29 changes the readout to 12 : 00.
See also:
RUNNING iPod®(PA710) (If Installed)
1. iPod Selection Button 2. TRACK Moving Button 3. RANDOM Playback Button 4. REPEAT Selection Button 5. INFO Button 6. SEARCH Knob & ENTER Button 7. CATEGORY Selection Button 1. iPod Sele ...
ADVANCED TECHNOLOGY FOR SUPERIOR FUEL ECONOMY
The 2012 Hyundai Accent's all-aluminum 1.6-liter Gamma four-cylinder engine utilizes the latest engine technology to deliver a class-leading 138 horsepower and 123 lb-ft of torque and a best-in-cl ...
Multi-function light switch
COMBINATION TURN SIGNAL, HEADLIGHT AND HIGH-BEAM SWITCH Turn Signal Operation Pulling down on the lever causes the turn signals on the left side of the car to blink. Pushing upwards on the lever c ...