DIGITAL CLOCK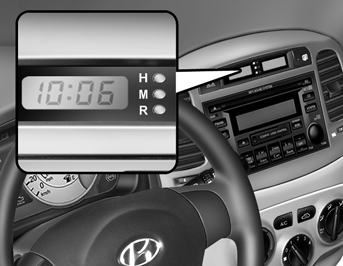 There are three control buttons for the digital clock. Their functions are: HOUR - Push "H" to advance the hour indicated.
MIN - Push "M" to advance the minute indicated.
RESET - Push "R" to reset minutes to ":00" to facilitate resetting the clock to the correct time. When this is done: Pressing "R" between 10 : 30 and 11 : 29 changes the readout to 11 : 00. Pressing "R" between 11 : 30 and 12 : 29 changes the readout to 12 : 00.
See also:
INFINITY® AUDIO SYSTEM
Audio enthusiasts with even more demanding tastes will be impressed by the AM/FM/XM/CD/MP3 audio system with touch-screen navigation that includes a 400-watt external amplifier, dedicated Dual Voi ...
Low Tire Pressure Telltale (If Installed)
The low tire pressure telltale comes on for 3 seconds after the ignition key is turned to the "ON" position. If the warning light does not come on, or continuously remains on after comm ...
Adjustable Intermittent Wiper Operation
To use the intermittent wiper feature, place the wiper switch in the "INT" position. With the switch in this position, the interval between wipes can be varied from approximately 1 to ...