DIGITAL CLOCK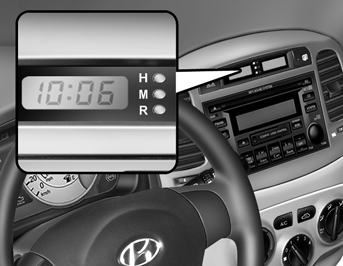 There are three control buttons for the digital clock. Their functions are: HOUR - Push "H" to advance the hour indicated.
MIN - Push "M" to advance the minute indicated.
RESET - Push "R" to reset minutes to ":00" to facilitate resetting the clock to the correct time. When this is done: Pressing "R" between 10 : 30 and 11 : 29 changes the readout to 11 : 00. Pressing "R" between 11 : 30 and 12 : 29 changes the readout to 12 : 00.
See also:
40 MPG - AN 18 PERCENT IMPROVEMENT IN FUEL ECONOMY
The 2012 Hyundai Accent's highway fuel economy of 40 mpg is an 18 percent improvement over its predecessor's 34 mpg highway manual transmission fuel economy rating. Hyundai Accent's fuel economy ...
Sun visor
Sun visor Your Hyundai is equipped with sun visors to give the driver and front passenger either frontal or sideward shade. To reduce glare or to shut out direct rays of the sun, turn the sun vi ...
Jump starting
Jump starting can be dangerous if done incorrectly. Therefore, to avoid harm to yourself or damage to your vehicle or battery, follow the jump starting procedures. If in doubt, we strongly recomme ...