DIGITAL CLOCK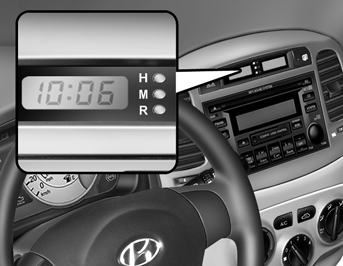 There are three control buttons for the digital clock. Their functions are: HOUR - Push "H" to advance the hour indicated.
MIN - Push "M" to advance the minute indicated.
RESET - Push "R" to reset minutes to ":00" to facilitate resetting the clock to the correct time. When this is done: Pressing "R" between 10 : 30 and 11 : 29 changes the readout to 11 : 00. Pressing "R" between 11 : 30 and 12 : 29 changes the readout to 12 : 00.
See also:
Service Requirements
To ensure that you receive the greatest number of miles of satisfying operation from your Hyundai, certain maintenance procedures must be performed. Although careful design and engineering have re ...
Brake Hoses and Lines
Visually check for proper installation, chafing, cracks, deterioration and any leakage. Replace any deteriorated or damaged parts immediately. ...
Gasolines for Cleaner Air
To help contribute to cleaner air, Hyundai recommends you use gasolines treated with detergent additives, which help prevent deposit formation in the engine. These gasolines will help the engine r ...