DIGITAL CLOCK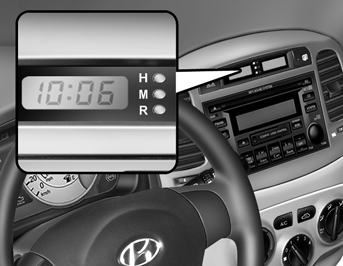 There are three control buttons for the digital clock. Their functions are: HOUR - Push "H" to advance the hour indicated.
MIN - Push "M" to advance the minute indicated.
RESET - Push "R" to reset minutes to ":00" to facilitate resetting the clock to the correct time. When this is done: Pressing "R" between 10 : 30 and 11 : 29 changes the readout to 11 : 00. Pressing "R" between 11 : 30 and 12 : 29 changes the readout to 12 : 00.
See also:
FRONT FOG LIGHT SWITCH
To turn on the front fog lights, push the switch. They will light when the headlight switch is in the second position and the key is in the "ON" position. NOTE: If you turn on the head ...
Carry emergency equipment
Depending on the severity of the weather where you drive your car, you should carry appropriate emergency equipment. Some of the items you may want to carry include tire chains, tow straps or chai ...
Sunshade
The sunshade will be opened with the glass panel automatically when the glass panel is slid.You will have to close it manually if you want it closed. CAUTION The sunroof is made to slide togethe ...