Adjusting Your Seat Belt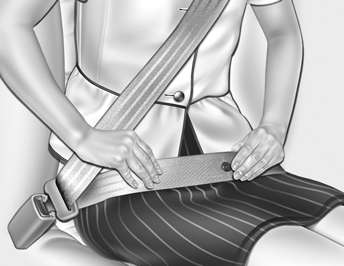 WARNING:
You should place the lap belt portion as low as possible and snugly across your hips, not on your waist. If the lap belt is located too high on your waist, it may increase the chance of injury in the event of a collision. Both arms should not be under or over the belt. Rather, one should be over and the other under, as shown in the illustration.
Never wear the seat belt under the arm nearest the door.
To Release the Seat Belt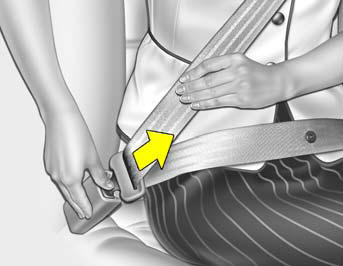 The seat belt is released by pressing the release button in the locking buckle. When it is released, the belt should automatically draw back into the retractor. If this does not happen, check the belt to be sure it is not twisted, then try again.
See also:
Warnings and indicators
All warning lights are checked by turning the ignition switch ON (do not start the engine). Any light that does not illuminate should be checked by an authorized HYUNDAI dealer. After starting th ...
Review: 2012 Hyundai Accent GLS Sedan
The Hyundai Accent has never been a Уgotta have itФ sort of car. Instead, itТs been a УwhatТs the cheapest thing you got?Ф sort of car. The 2011 started at just $9,985 (plus shipping and handling) ...
A Cabin That Matches the Exterior's Promise
The Elantra's exterior sets high design expectations, but the cabin gets a fair dose of style itself. It's stylish in numerous ways, from the simple yet elegant ventilation system knobs to the sle ...