Adjusting Your Seat Belt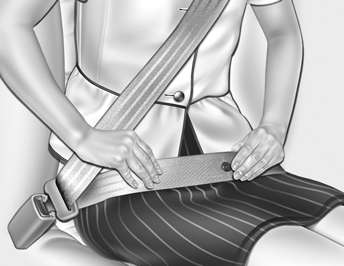 WARNING:
You should place the lap belt portion as low as possible and snugly across your hips, not on your waist. If the lap belt is located too high on your waist, it may increase the chance of injury in the event of a collision. Both arms should not be under or over the belt. Rather, one should be over and the other under, as shown in the illustration.
Never wear the seat belt under the arm nearest the door.
To Release the Seat Belt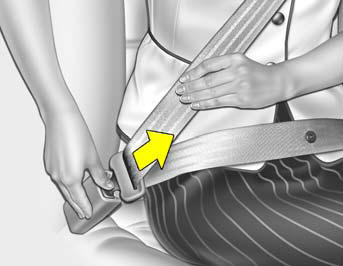 The seat belt is released by pressing the release button in the locking buckle. When it is released, the belt should automatically draw back into the retractor. If this does not happen, check the belt to be sure it is not twisted, then try again.
See also:
To install the wiper blade
1. Put a new wiper blade onto the wiper arm and lower the wiper blade at the level of the wiper arm as shown in the drawing. 2. Pull up the wiper blade until you hear an audible "click&quo ...
Don't Neglect the Interior
Moisture can collect under the floor mats and carpeting to cause corrosion. Check under the mats periodically to be sure the carpeting is dry. Use particular care if you carry fertilizers, cleanin ...
Good driving practices
• Never take the vehicle out of gear and coast down a hill. This is extremely hazardous. Always leave the vehicle in gear. • Do not "ride" the brakes. This can cause them to overheat and ...