Locking from the Inside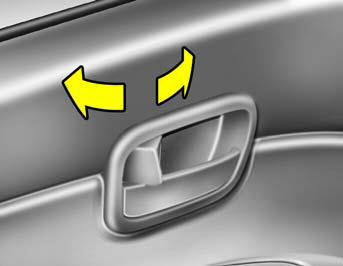 To lock the doors from the inside, simply close the door and push the lock switch to the "LOCK" position.
NOTE:
o When pushing the lock switch of the passenger's door to the "LOCK" position, all doors can be locked.
o When the door is locked, the red mark on the switch is not visible.
o The driver's door can be opened by pulling the inside door handle even if the inside lock switch is pushed to the "LOCK" position.
WARNING:
Be careful not to pull the inside door handle while driving. If you pull the inside door handle, the door can be opened and you may be ejected from the vehicle and can be injured or killed.
See also:
Air Conditioning Switch
The air conditioning is turned on by pushing the A/C button on the heating/air conditioning control panel. ...
Disarmed stage
Using the smart key The system will be disarmed when the doors are unlocked by pressing the unlock button on the smart key or pressing the lock/unlock button of the front outside door handle with ...
Instrument panel illumination
When the vehicle's parking lights or headlights are on, push the illumination control switch left or right to adjust the brightness of the instrument panel illumination. The illumination inten ...