Locking from the Inside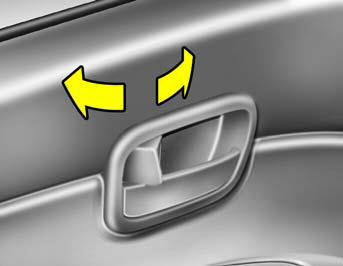 To lock the doors from the inside, simply close the door and push the lock switch to the "LOCK" position.
NOTE:
o When pushing the lock switch of the passenger's door to the "LOCK" position, all doors can be locked.
o When the door is locked, the red mark on the switch is not visible.
o The driver's door can be opened by pulling the inside door handle even if the inside lock switch is pushed to the "LOCK" position.
WARNING:
Be careful not to pull the inside door handle while driving. If you pull the inside door handle, the door can be opened and you may be ejected from the vehicle and can be injured or killed.
See also:
Driving at night
Because night driving presents more hazards than driving in the daylight, here are some important tips to remember: • Slow down and keep more distance between you and other vehicles, as it may ...
Trunk lid control switch
The trunk lid control switch is used to prevent unauthorized access to the trunk. • When the trunk lid control switch is UNLOCK position ( ), the trunk can be unlocked with the trunk lid release ...
To keep locks from freezing
To keep the locks from freezing, squirt an approved de-icer fluid or glycerine into the key opening. If a lock is covered with ice, squirt it with an approved de-icing fluid to remove the ice. If ...