Locking from the Inside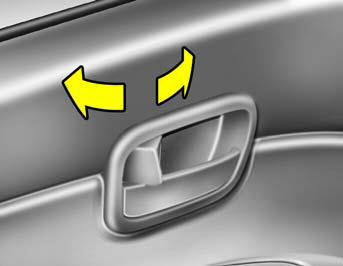 To lock the doors from the inside, simply close the door and push the lock switch to the "LOCK" position.
NOTE:
o When pushing the lock switch of the passenger's door to the "LOCK" position, all doors can be locked.
o When the door is locked, the red mark on the switch is not visible.
o The driver's door can be opened by pulling the inside door handle even if the inside lock switch is pushed to the "LOCK" position.
WARNING:
Be careful not to pull the inside door handle while driving. If you pull the inside door handle, the door can be opened and you may be ejected from the vehicle and can be injured or killed.
See also:
Larger Children
Children who are too large for child restraint systems should always occupy the rear seat and use the available lap/ shoulder belts. The lap portion should be fastened snug on the hips and as low ...
Closing the hood
1. Before closing the hood, check the following: • All filler caps in engine compartment must be correctly installed. • Gloves, rags or any other combustible material must be removed from the engine ...
Checking the amount of air conditioner refrigerant and compressor lubricant
When the amount of refrigerant is low, the performance of the air conditioning is reduced. Overfilling also has a negative influence on the air conditioning system. Therefore, if abnormal operatio ...