Locking and Unlocking Front Doors with a Key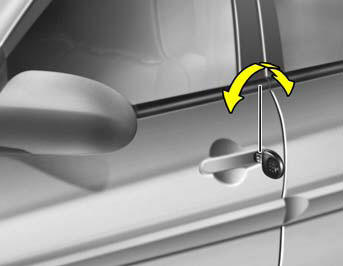 o The door can be locked or unlocked with a key.
o Lock the door by turning the key toward the front of the vehicle and unlock it by turning the key toward the rear.
NOTE:
o The driver's door can be unlocked by turning the key once toward the rear. If you wish to unlock all doors, turn the key again toward the rear within 4 seconds (With the central door locking system).
o If your vehicle is equipped with a transmitter, you can change the system to unlock all doors by turning the key once toward the rear. If you want this feature (central door unlock mode), refer to the "Keyless entry system" in this section.
See also:
105,000 miles (168,000 km) or 84 months
❑ Inspect air cleaner filter ❑ Inspect vacuum hose ❑ Inspect air conditioning refrigerant ❑ Inspect brake hoses and lines ❑ Inspect drive shafts and boots d ...
Lighting control
The light switch has a Headlight and a Parking light position. To operate the lights, turn the knob at the end of the control lever to one of the following positions: (1) OFF position (2) Parki ...
Catalytic converter
(If installed) Hyundai vehicles are equipped with a monolith type three-way catalytic converter to reduce the carbon monoxide, hydrocarbons and nitrogen oxides contained in the exhaust gas. Exha ...